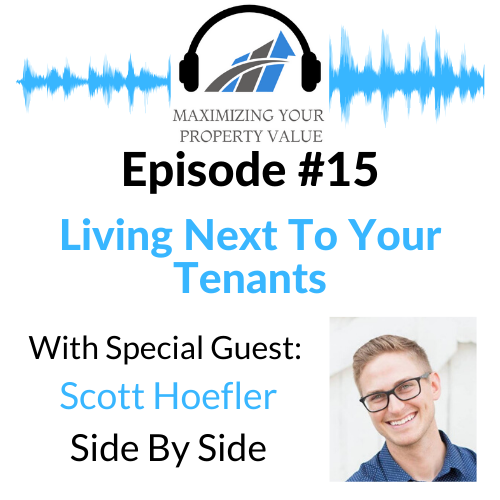 Scott Hoefler CO-FOUNDER OF SIDE BY SIDE
Scott & his twin brother's interest in real estate started as young boys in Chicago. They remember taking walks through their southside neighborhood with their Dad as he pointed out various building styles and architectural details. They purchased our first duplex in 2013, living on one side, and renting the other side out.

At that point they were hooked.
‍
Since then, they've built a small portfolio of rental properties, and that passive income has led them to financial freedom. They've experienced the power of real estate investing first hand, and their purpose is to help other people experience lifestyle and financial freedom with real estate, as well.
===
Like what you're hearing? You can WATCH this episode on YouTube: https://www.youtube.com/playlist?list=PL9p74LHu4dBet3Htypyan24kM7k62OuIh
You can also check out the latest blog post at www.realestatestiles.com/blog
===
You're invited to join John Stiles at a special food-packing event at Feed My Starving Children.
This is a great organization that provides nutritious meals for people around the world that are in need.
The event is
Thursday, December 26
9:30AM - 11:30AM
Sign up using this link: https://www.fmsc.org/join-group?joincode=13BYE2
You can also let others know about it by sharing the Facebook event: https://www.facebook.com/events/2393503527414605/
Consider having this as a way for your family and friends to spend time this holiday season!
===
Have a question about property management or real estate investing? We want to hear from you. Submit your question in video format and if your question is featured on one of our future shows you could receive a free gift! Please keep your question under 60 seconds. It is preferred that you share the video by uploading it to YouTube and sending the private link to us using our contact page: http://www.realestatestiles.com/contact/
===
Are you wondering what your property is worth in today's real estate market? Download my free e-book that will help you calculate your property's value! http://www.realestatestiles.com/value/
===
John Stiles is a licensed MN real estate agent with Bridge Realty.