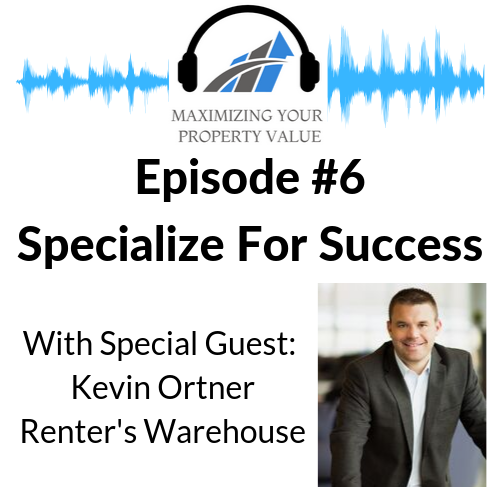 A big thank you to Kevin Ortner with Renter's Warehouse for taking the time to be on Maximizing Your Property Value. You can find out more about renter's warehouse by going to their website: https://renterswarehouse.com/
Kevin Ortner is the President and CEO of Renters Warehouse, America's leading real estate investment services company. Kevin joined the company in 2009 when he opened the first Renters Warehouse franchise in Phoenix, AZ. His franchise had been consistently awarded with best-in-class business and culture awards.
In 2017, Ortner authored his first book - Rent Estate™ Revolution. The book shares his philosophy and business expertise around single-family rentals and the power of Rent Estate to drive long-term wealth creation, retirement security and financial freedom for the everyday person.
===

Like what you're reading? You can listen to this week's episode on your favorite podcast player - just search for Maximizing Your Property Value.
You can also check out the video from the show on YouTube: https://www.youtube.com/playlist?list=PL9p74LHu4dBet3Htypyan24kM7k62OuIh
Have a question about how to Maximize Your Property Value? We want to hear from you. Submit your question in video format and if your questions is featured on one of our future shows you could receive a free gift! Please keep your question under 60 seconds. If recording on your phone - please have your phone in landscape orientation. It is preferred that you share the video by uploading it to YouTube and sending the link to us using our contact page: http://www.realestatestiles.com/contact/
===

Are you wondering what your property is worth in today's real estate market? Download my free e-book that will help you calculate your property's value!http://www.realestatestiles.com/value/
John Stiles is a licensed MN real estate agent with Bridge Realty.