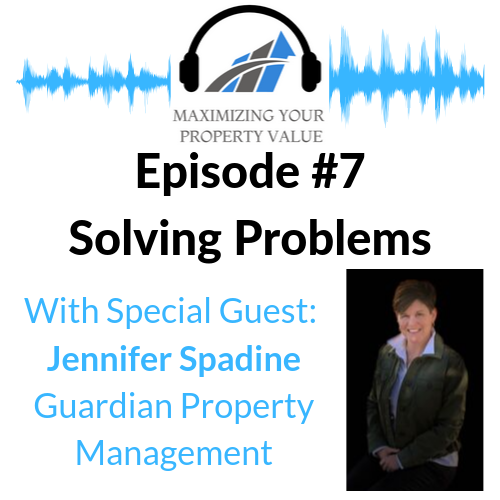 Thank you to Jennifer Spadine for joining us for this episode.
Jennifer began her property management career in 1991 where she worked for a large management corporation. During her tenure there, she advanced to Director of Leasing where she oversaw 15 large properties and headed a team of 50+ leasing associates. In 2002, she started as an employee at Guardian Property Management (formerly the Poseidon Companies) and then purchased the company later that same year. Since purchasing the company, Jennifer's business plan has focused on growth through continued exceptional customer service. As a result, Guardian Property Management began with 127 units, and has grown to currently over 800 units.
The number of owners partnering with GPM increased from 30 at the beginning to over 250 today. To accommodate this growth, Jennifer has expanded her staff and company capability from 4 to 21. With a staff of 21, the company has been recognized for their excellence in recent years with MADACS awards for Best Leasing and Best Team. Jennifer is an active member of the real estate community. In addition to her networking group involvements, she is a featured speaker and teacher at a variety of professional events. Jennifer serves on the MMHA's Independent Owner Committee and is actively involved with the City of Minneapolis' Rental Property Owners Workshops.
Jennifer is married with 2 adult children, three adult stepchildren and 2 grandchildren. When she is not working she enjoys running, hiking, and spending time with her husband, Al. She also volunteers as a run mentor with Mile in My Shoes, and volunteers in the Sunday School Department at her church.
You can find out more about Gurdian Property Management and Guardian Property Maintenance at www.guardianprop.com
===
Like what you're reading? You can listen to this week's episode on your favorite podcast player - just search for Maximizing Your Property Value.
You can also check out the video from the show on YouTube: https://www.youtube.com/playlist?list=PL9p74LHu4dBet3Htypyan24kM7k62OuIh
===
Have a question about property management or real estate investing? We want to hear from you. Submit your question in video format and if your question is featured on one of our future shows you could receive a free gift! Please keep your question under 60 seconds. If recording on your phone - please have your phone in landscape orientation. It is preferred that you share the video by uploading it to YouTube and sending the link to us using our contact page: http://www.realestatestiles.com/contact/

Are you wondering what your property is worth in today's real estate market? Download my free e-book that will help you calculate your property's value! http://www.realestatestiles.com/value/
John Stiles is a licensed MN real estate agent with Bridge Realty.