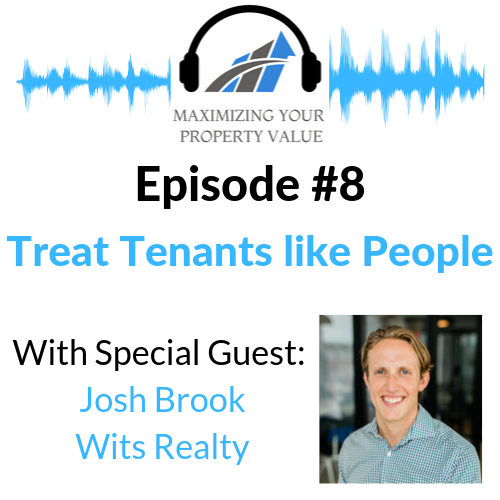 In this episode John Stiles interviews Josh Brook from Wits Realty. We dive into Josh's perspective on what a good property manager looks like, how to treat tenants, and finding ways to communicate rent increases so your residents are excited to stay.
Josh Brook is a local real estate agent at Wits Realty who focuses exclusively on rental properties. Josh also leads the Wits Property Management division which manages over 100 units in the Twin Cities area for investors across the country. He can be found online at MinneInvestor.com, LinkedIn, or email him at josh.brook@witsrealty.com.
===

Like what you're reading? You can listen to this week's episode on your favorite podcast player - just search for Maximizing Your Property Value.
You can also check out the video from the show on YouTube: https://www.youtube.com/playlist?list=PL9p74LHu4dBet3Htypyan24kM7k62OuIh
===

Have a question about property management, asset management or real estate investing? We want to hear from you. Submit your question in video format and if your question is featured on one of our future shows you could receive a free gift! Please keep your question under 60 seconds. It is preferred that you share the video by uploading it to YouTube and sending the link to us using our contact page: http://www.realestatestiles.com/contact/

===

Are you wondering what your property is worth in today's real estate market? Download my free e-book that will help you calculate your property's value! http://www.realestatestiles.com/value/

===

John Stiles is a licensed MN real estate agent with Bridge Realty.