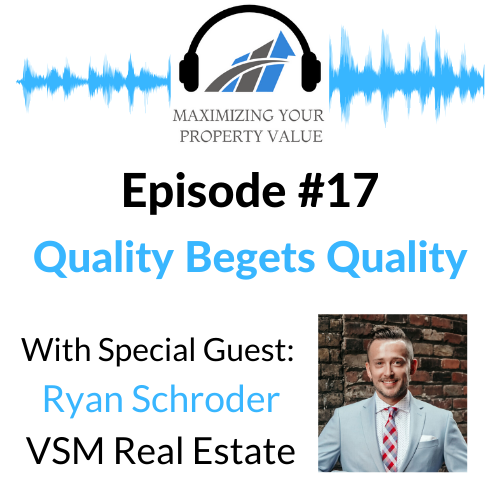 Ryan Schroder is the co-founder and owner of VSM Real Estate. VSM does property management and brokering in the Twin Cities, with a specialization in residential investments. Ryan is also the general contractor and owner of Construction Pros, which provides maintenance services, remodeling, and provides for the flip business that he runs. Ryan's background is in business and hotel brokering, and sales in general. A graduate from Metro State University. He lives in the Prior Lake area with his wife, 3 kids and 2 dogs.
===
Like what you're reading? You can listen to this week's episode on your favorite podcast player - just search for Maximizing Your Property Value.
You can also check out the video from the show on YouTube: https://www.youtube.com/playlist?list=PL9p74LHu4dBet3Htypyan24kM7k62OuIh
===
You're invited to join John Stiles at a special food-packing event at Feed My Starving Children.This is a great organization that provides nutritious meals for people around the world that are in need.
The event isThursday, December 269:30AM - 11:30AMSign up using this link: https://www.fmsc.org/join-group?joincode=13BYE2
You can also let others know about it by sharing the Facebook event: https://www.facebook.com/events/2393503527414605/
Consider having this as a way for your family and friends to spend time this holiday season!
===
Have a question about property management or real estate investing? We want to hear from you. Submit your question in video format and if your question is featured on one of our future shows you could receive a free gift! Please keep your question under 60 seconds. It is preferred that you share the video by uploading it to YouTube and sending the private link to us using our contact page: http://www.realestatestiles.com/contact/
===
Are you wondering what your property is worth in today's real estate market? Download my free e-book that will help you calculate your property's value! http://www.realestatestiles.com/value/
===
John Stiles is a licensed MN real estate agent with Bridge Realty.