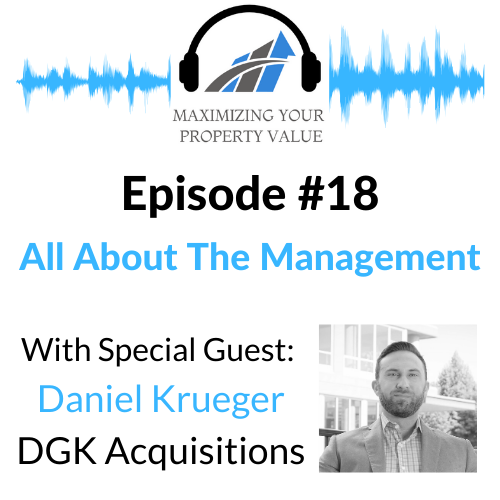 Dan Krueger graduated from the University of St. Thomas, in St. Paul Minnesota with a degree in Financial Management. Before beginning his career as a real estate investment professional, he spent 5 years working in corporate finance where he managed the operating expenses for multinational fortune 500 companies.
In January of 2018 Dan closed on his first property, a small 6-unit apartment building in St Paul Minnesota for $475,000. The business plan was simple, fix up the units, improve the tenant base, and increase rents to the market rate. Nine months after the acquisition, Dan refinanced the property at a value of $600,000. He used the refi proceeds to get into his next deal, an 8-unit building about 3 minutes away from the first property.
Dan currently has a portfolio of 34 units made up of 4 properties all in the same neighborhood. Dan currently is working on closing his first syndication deal, a 32-Unit property in St. Paul Minnesota. Dan is building a vertically integrated business with property management in-house as well as in-house maintenance and construction.
From here on out, Dan plans to focus on the syndication business to keep scaling up, as well as developing strategic partnerships to accelerate growth.
www.dgkacquisitions.com
===
Like what you're reading? You can listen to this week's episode on your favorite podcast player - just search for Maximizing Your Property Value.
You can also check out the video from the show on YouTube: https://www.youtube.com/playlist?list=PL9p74LHu4dBet3Htypyan24kM7k62OuIh
===
You're invited to join John Stiles at a special food-packing event at Feed My Starving Children.
This is a great organization that provides nutritious meals for people around the world that are in need.
The event is
Thursday, December 26
9:30AM - 11:30AM
Sign up using this link: https://www.fmsc.org/join-group?joincode=13BYE2
You can also let others know about it by sharing the Facebook event: https://www.facebook.com/events/2393503527414605/
Consider having this as a way for your family and friends to spend time this holiday season!
===
Have a question about property management or real estate investing? We want to hear from you. Submit your question in video format and if your question is featured on one of our future shows you could receive a free gift! Please keep your question under 60 seconds. It is preferred that you share the video by uploading it to YouTube and sending the private link to us using our contact page: http://www.realestatestiles.com/contact/
===
Are you wondering what your property is worth in today's real estate market? Download my free e-book that will help you calculate your property's value! http://www.realestatestiles.com/value/
===
John Stiles is a licensed MN real estate agent with Bridge Realty
MYPV E17 - Quality Begets Quality With Special Guest Ryan Schroder From VSM Real Estate