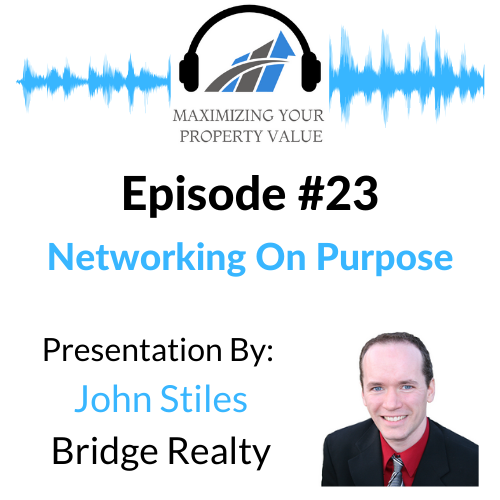 On January 9, 2020, I had the opportunity to speak at the Apartment Investors Meetup group in Bloomington. This group is run by Joey Pepka and is a sub-group of the Minnesota Real Estate Investor's Association (MNREIA).
The topic that I spoke on is networking on purpose - because for many of us networking doesn't just happen naturally. Over my years of networking I have been dissatisfied with the results of my networking endeavors and have come up with a list of best-practices to improve my results.
I hope you enjoy this presentation. Let me know what your key takeaway was.
===
Like what you're reading? You can listen to this week's episode on your favorite podcast player - just search for Maximizing Your Property Value.
You can also check out the video from the show on YouTube: https://www.youtube.com/playlist?list=PL9p74LHu4dBet3Htypyan24kM7k62OuIh
===
Mark your calendars and plan to attend the premiere real estate gathering in the midwest. The Northstar Real Estate Conference will be held on April 24-25 in Bloomington, MN and you do not want to miss it.
Use promo code "stiles" for $100 off your 2-day ticket.
www.facebook.com/NREConference
www.instagram.com/nreconference/
https://www.linkedin.com/company/31463542
https://www.youtube.com/channel/UC8hcpZZQWCsQHnu7P1YlGpA
===
Have a question about property management or real estate investing? We want to hear from you. Submit your question in video format and if your question is featured on one of our future shows you could receive a free gift! Please keep your question under 60 seconds. It is preferred that you share the video by uploading it to YouTube and sending the private link to us using our contact page: http://www.realestatestiles.com/contact/
===
Are you wondering what your property is worth in today's real estate market? Download my free e-book that will help you calculate your property's value! http://www.realestatestiles.com/value/
===
John Stiles is a licensed MN real estate agent with Bridge Realty.