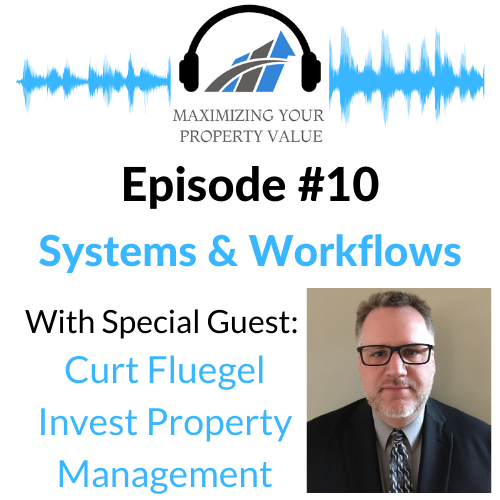 Curt Fluegel is the Founder and Broker of Invest Property Management. He began investing in duplexes and single family homes over ten years ago, and now owns several apartment buildings, and commercial office buildings throughout Minnesota and Wisconsin. Curt is an active member and Chair of the Independent Owners Committee at the Minnesota Multi-housing Association. Curt is a graduate of Augsburg College and resides in Hudson, Wisconsin.
Like what you're reading? You can listen to this week's episode on your favorite podcast player - just search for Maximizing Your Property Value.
You can also check out the video from the show on YouTube: https://www.youtube.com/playlist?list=PL9p74LHu4dBet3Htypyan24kM7k62OuIh
Have a question about property management or real estate investing? We want to hear from you. Submit your question in video format and if your question is featured on one of our future shows you could receive a free gift! Please keep your question under 60 seconds. It is preferred that you share the video by uploading it to YouTube and sending the private link to us using our contact page:
http://www.realestatestiles.com/contact/
Are you wondering what your property is worth in today's real estate market? Download my free e-book that will help you calculate your property's value!
http://www.realestatestiles.com/value/
John Stiles is a licensed MN real estate agent with Bridge Realty.